By Lucy Williamson
BBC Paris correspondent
Even in France, a protest about the calculation of unemployment benefits could feel a little niche during a pandemic. But it has led to the occupation of 90 theatres across France, and the emergence of new links between social and cultural crusaders who feel short-changed by President Emmanuel Macron.
The movement has been led by performers – actors, artists and musicians – who say the benefit reforms will mean lower daily unemployment payments for them, and other seasonal workers, at a time when venues are closed and they are unable to work.
And if anyone can make the management of actors' finances a national obsession, it's Grégory Montel, star of the hit French drama series, Call My Agent.
"I'm here to support my friends who are suffering a lot," he told us during a demonstration in Paris.
President Macron has said that some cultural venues and café terraces may start to open from mid-May onwards. But he has also imposed a national lockdown until at least the end of April, to try to stem a new wave of infections.
"I know nothing is easy, and that all the decisions are quite complex, but unfortunately, our government made a choice and it's not the choice I would have made," says Montel. "There's a way to open our theatres and cinemas. I don't know what's going to happen in the movie industry over the next few years, so that's why they mustn't break everything."
A year without culture
The Odeon Theatre in Paris, closed since last October, is now a place divided between its working actors and its protesting ones.
In one part of the building, socially distanced rehearsals are continuing; in another, 50 protesters have set up home.
The foyer is now a meeting space and communal diner hung with huge banners; its 19th-Century statues, dressed in fluorescent yellow vests, in homage to the movement that blocked Macron's reforms two years ago.
But, with one shower between them, schedules matter here as much as slogans. New arrivals must take an induction tour, and absorb a list of rules and regulations.
"We didn't realise we'd be here for a month," said Baptiste Chevalier Duflot, showing us around the operation. "[The government] decided to put people in trains and on the metro, but to close all the social spaces."
Baptiste is a sound engineer when he is not managing a theatre occupation. But the movement has also drawn in people from outside the performing arts, such as Magali Bonnaud.
She works in an old people's home: the frontline of the Covid crisis. But after a year without culture, she believes something has to change. "I don't want to miss my life," she told the BBC.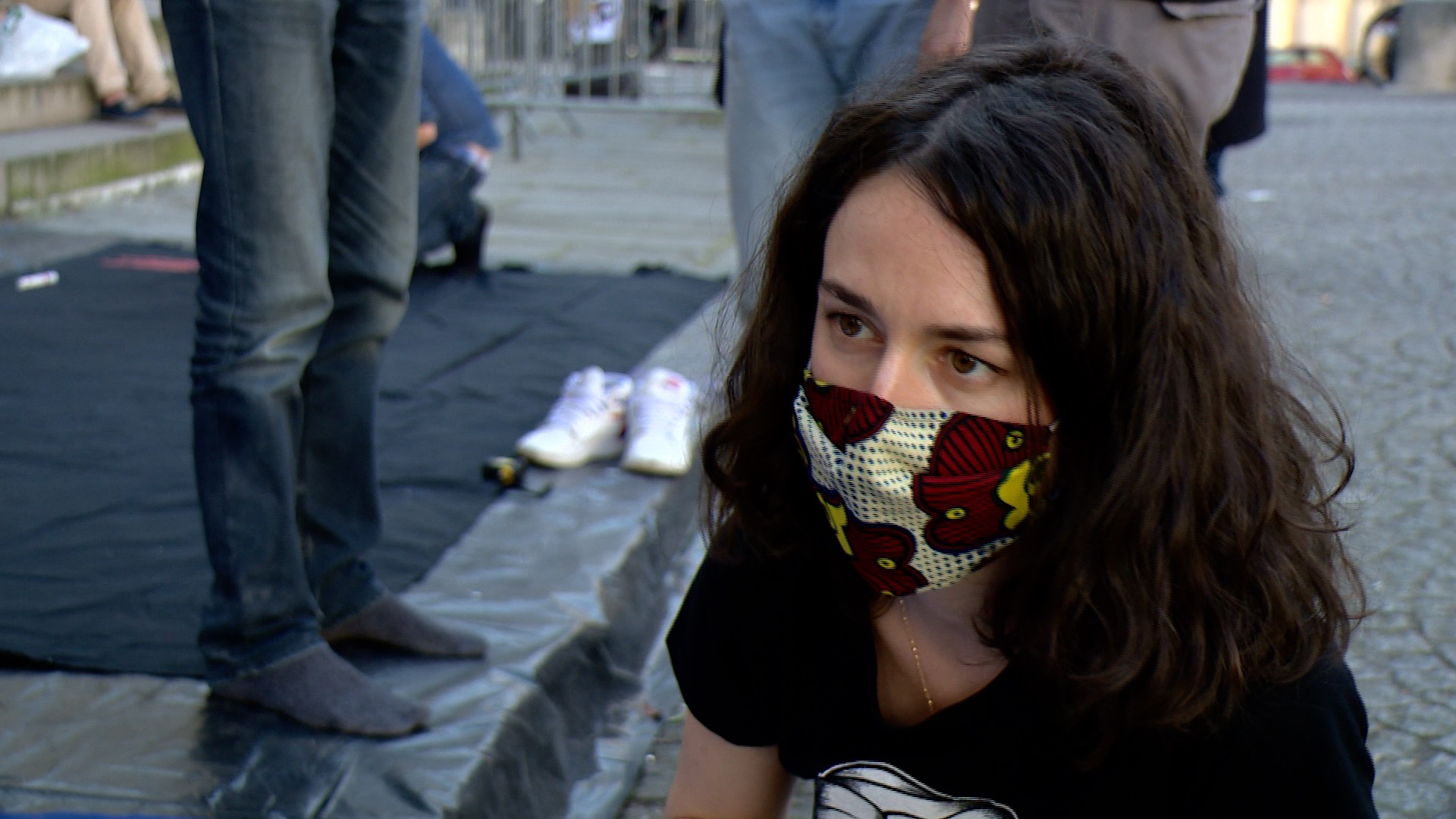 BBC
Every single day people are dying from poverty, from everything. Of course people are dying from this too but we can't miss our lives just because people are dying
The movement has now spread across the country, with a strong presence in towns such as Lille, Lyon, Marseille and Poitiers.
Stilt-walkers and musicians from the local TAP theatre in Poitiers gather once a week outside the station to sing protest songs from the Paris Commune – and others, written during the current crisis.
One favourite, by the musician HK, sings ironically of the "good king" appearing on the evening news to announce the latest "sentence".
That strikes a chord with protesters like Leah Gracie who blame President Macron for once again cutting benefits to those already struggling.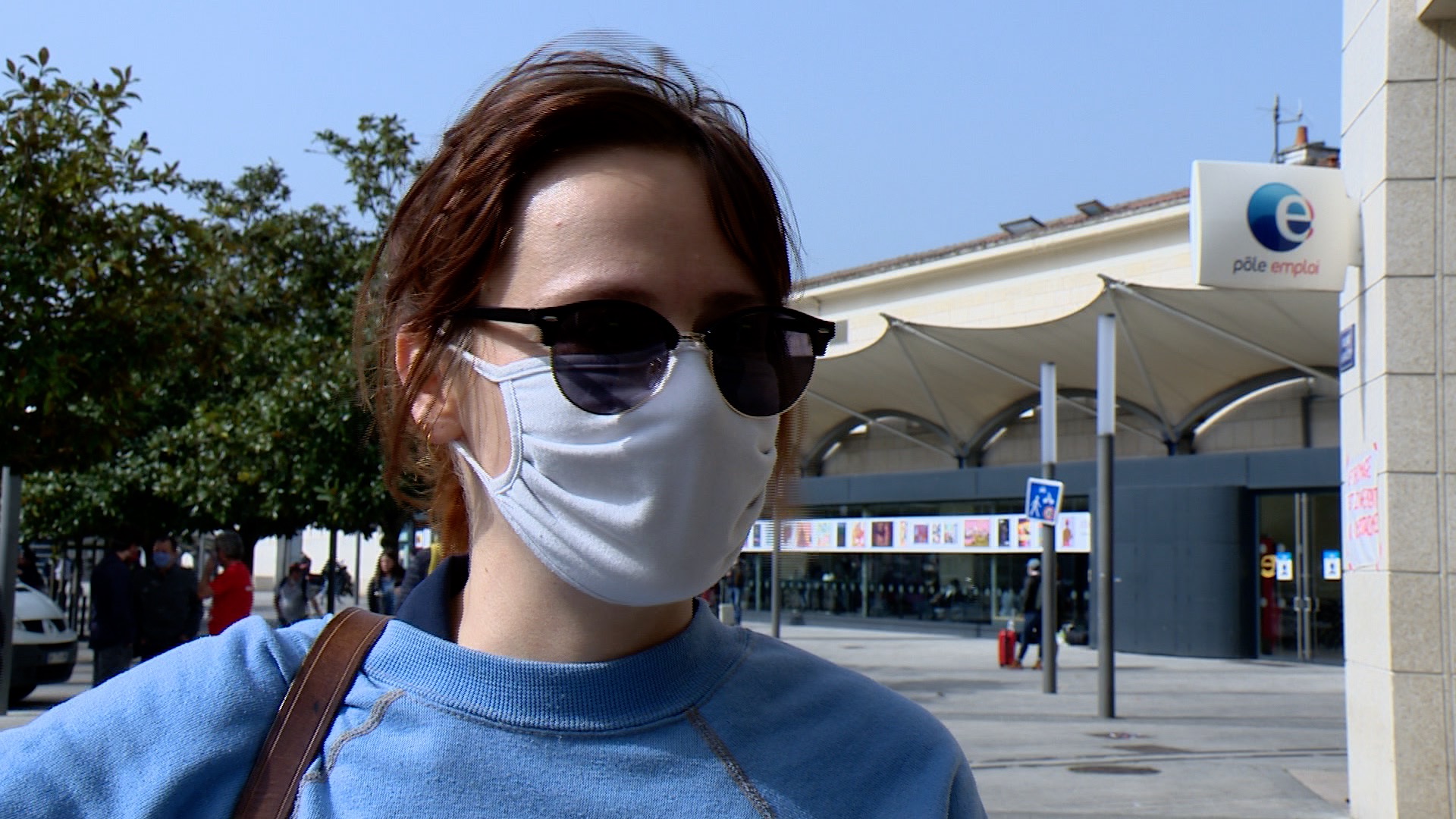 BBC
I think it's just the little king in his castle who doesn't want to look down, taking money from the poor and increasing the difference between rich and poor. Simple as that
The government is now spending €11bn (£9.5bn; $13bn) a month to support businesses and workers through the crisis.
But the feelings of anger and inequality sparked by the crisis stretch far beyond France's artists and performers.
Among those bedding down at the TAP theatre in Poitiers are teachers, nurses and restaurant workers. And, pinned to the wall, a timetable of weekly events lists protests against pension reform and a new security law, and action in support of migrants, Palestinians, LGBT rights and yellow vests.
Drama on hold, but politics continues
In Poitiers, as elsewhere, the movement is starting to link up with other, more established protest groups.
The yellow vests may have left the headlines, but a handful still protest each week in towns like Poitiers. Now they've decided to add their support to the theatre protest.
"We've kept the flame alive," Mohammed Belaani told me, "so that it stays alight, and perhaps blazes again one day."
Like the theatre protests, he says, the yellow vests are a spontaneous movement: "it's their greatness and their weakness at the same time," he said.
Stéphane Sirot, a historian of social movements in France, says the theatre occupations do share some similarities with the yellow vests.
"Precarious populations, like the self-employed and young people who are struggling to find stable jobs, tend to generate movements like the yellow vests rather than classic, union-led movements," he said. "But those are also more dangerous for political power."
President Macron has had a brief respite from the constant protests that have dogged his time in office. And this movement is still low-key compared with the disruption France has seen in recent years.
But this may be the calm before the storm for France's government. Caught between unsustainable spending and unacceptable reforms, Mr Macron may have to face his critics again.
The plays may have stopped here, but the politics goes on.